Goat Island Boxes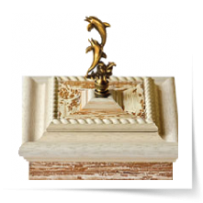 Goat Island is a rural island adjacent to the Isle of Palms where about 30 full-time residents live. The area is accessible only by boat and the island has no public streets. Residents keep boats at personal docks and travel across the water way to the main land.
Sarah Sanders was the first year-round resident of Goat Island, other than the Goat Man and his wife, which inspired her to name her handiwork Goat Island Treasure Boxes. Because her home is only accessible by boat, Sanders transports all the components and finished products from Goat Island across the Intracoastal Waterway by boat on a "good tide"
To date she has made several thousand boxes. "If we make a profit, fine, but this is my sanity and it makes me feel like I've accomplished something."
These elegant, one of a kind boxes are the ultimate Lowcountry gift. These exquisite "works of art" are created from various recycled, solid wood moldings, both old and new. The flaws and imperfections in the wood and finish only add to their beauty and authenticity. We trust you will enjoy and cherish your signed, original work of art.