Lori Bonn Designs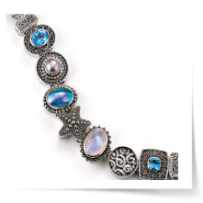 Calorie-free Bonn Bons? We've got 'em! Inspired by Queen Victoria's slide charms, Bonn Bons, the brainchild of Lori Bonn, are a fresh, modern take on the fashion of 19th century England. Featuring bold, one of a kind gems and intricate Balinese silverwork, Bonn Bons make for a standout look to match any mood, personality or relationship.
Customize your own bracelet that showcases your personality and symbolize your relationship's unique journey. With hundreds of classic slides to choose from, each with an original name, like "Hello, Lover," "February Lovefest" and "Under My Spell," you'll have as much fun building a bracelet as she'll enjoy wearing it.
Add other genuine slides to express your personal journey and select slidess based on meaningful names, the healing power of particular gemstones or favorite colors. You can even add birthstones and alpha tokens for initials and special messages.
It's a genuine charm bracelet, all grown up!