Wolford Oil Lamps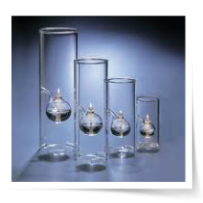 Crafted in California in Borosilicate glass, these oil lamps are offered in 6″, 9″, 12″, and 15″ sizes. We also offer the fuel and replacement wicks and wickholders.

In 1972, Linda Wolfard received a handblown glass oil lamp as a gift from her husband Jon, a glassblower at a local research company. The original oil lamp became a centerpiece on their coffee table where friends constantly remarked about Jon's unique design and requested lamps for themselves.With much encouragement, Jon converted their garage into a glassblowing studio and began a small-scale company. Linda carted the lamps along with their new daughter to art shows in parks, malls, and later to gift stores.
The oil lamps are all handblown from borosilicate glass, adding durability to the classic designs. Skilled glassblowers craft each object using Wolfard's exclusive "in-flame" technique at higher-than-usual temperatures. This presents an additional challenge for the glassblower who must have exceptional skills at his craft.