Pandora Jewelry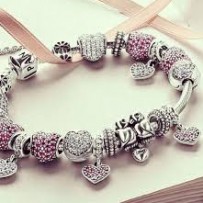 Tell your story with PANDORA JEWELRY, the affordable luxury.
PANDORA JEWELRY has built its name on customizable charm bracelets and a line of coordinating necklaces, rings and earrings crafted in sterling silver, 14-karat gold, genuine stones and cubic zirconia

It all started nearly 30 years ago. Back in 1982 a jeweler's shop that would one day become PANDORA was established in modest surroundings in Copenhagen, Denmark, by Danish goldsmith Per Enevoldsen and his wife Winnie.
In 1987, after several successful years as wholesalers, the retail activities were discontinued and the company moved to larger premises. Meanwhile, the first in-house designer joined the company and PANDORA began to focus on creating its own unique jewelry.
In 2000, PANDORA's charm bracelet concept was first launched in the Danish market.
PANDORA's mission – then and today – is to offer women across the world a universe of high quality, hand-finished, modern and genuine jewellery products at affordable prices, thereby inspiring women to express their individuality. All women have their individual stories to tell – a personal collection of special moments that makes them who they are. That is why we celebrate these moments. That is why we say these moments are unforgettable.